2018 Update! – Where is my Twitch Stream Key? or how to setup obs for Twitch? These are questions many of us ask. The answers are simple however. Just follow the below guide.
Where is My Twitch Stream Key? 2018 Update!
In order to Connect your Stream Broadcasting software (OBS Studio Software) and your Twitch Live Stream Channel you will require Twitch Stream Key or Twitch Broadcast Key. So you may wonder where where can i find my Twitch Stream Key?
To get the Twitch Stream Key and to configure your OBS Studio Software – Follow these steps:
Create an account on Twitch
Login to your Twitch Account
Open the Dropdown menu on your account name (Step 1) and select Dashboard (Step 2)
Select Settings in the left hand side menu (Step 3)
Click the Stream Key Link (Step 4)
Select the Show Key button (Step 5)
Click the I understand button (You should never share your Stream Key with anyone else) (Step 6)
Select the whole String (live_xxxxxxxx) and copy it (Step 7)
Now you have your Twitch Stream Key or Twitch Broadcast Key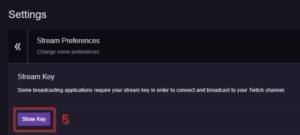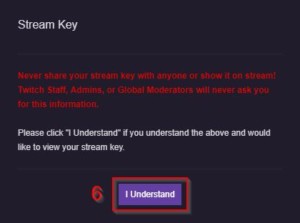 Adding My Twitch Stream Key to OBS Studio Software
Now that you have the Twitch Stream Key (Twitch broadcast key) how to setup obs for twitch? follow the below steps:
Open Your OBS Studio Software
Open File -> Settings (Step 1)
Select Stream (Step 2)
Make sure Stream Type is Streaming Service (Step 3)
Make sure the Service is set to Twitch (Step 4)
Paste your Twitch Stream Key (Twitch Broadcast Key) to the Stream Key Field (Step 5)
Press OK to save the changes (Step 6)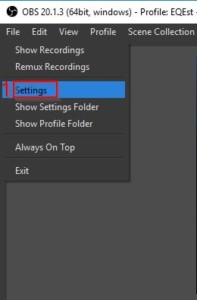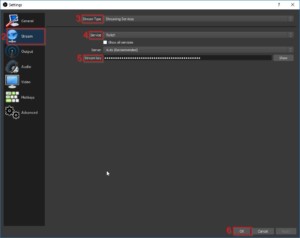 Congratulations you have connected your OBS Studio Software to your Twitch Live Stream Channel.
Now the only thing left to do is to configure the Stream Settings on OBS Studio Software. By Stream Settings I mean the Stream Output such as Encoder selection, Video Quality, Bitrate etc. All this I will explain in more detail on the Step by Step guide on the best settings for obs streaming (will be added shortly)
So the journey just begins 🙂
Also in case you have any questions, feel free to leave a comment below and I will answer as good as I can.
Related Posts
Twitch Panel Ideas – What panels to add to your Twitch Channel?
If you have a Twitch Channel and you are Live Streaming your Games there, you may...
Read more.
10.12.2017 – EqEST